2016 LKT Photos
Click on the above link to check out photos including the volunteers that put together those great angler bags, Friday Night Registration, Team Shirt Contest, Weigh-in and Awards!

The South Padre Island Chamber of Commerce welcomed anglers, captains and their families to the 35th Annual Ladies Kingfish Tournament beginning on Friday night for registration. Early Saturday morning, 240 anglers and 99 boats hit the waterways, returning to the docks before 7:00 p.m. to weigh in their catch. This year's tournament brought 176 bay anglers and 64 offshore to the Island for a fun filled three days. While there were concerns early in the week regarding high seas, the offshore ladies showed everyone how it was done. 16 of the 22 offshore boats weighed in fish, and some pretty awesome fish at that.

The Awards Ceremony on Sunday brought anglers and their families together to recognize those who took top prizes. 30 anglers received framed original artwork by Dinah Bowman specific to the species they won. Trophies done by Bowman were also awarded for Grand Champion Bay Division and Grand Champion Offshore Division.

This year's bay champion was Teri Vela from Port Isabel, TX. Teri brought in all three species for a total weight of 12.9. She was fishing with Capt. Gilbert Vela on the boat Gilbert's Gals. Shanna Collins from Kingsville, TX walked away with the Offshore Championship when she brought in all four species for a total weight of 39.45. Kelsey was fishing on the boat Heartache with Justin Drummond. Congratulations to these anglers and all the winners of this year's tournament.

Mark your calendar for the 36th Annual Ladies Kingfish Tournament scheduled for August 11-13, 2017, and start your own Island tradition.

2016 Bay Division Grand Champion
Teri Vela from Port Isabel, TX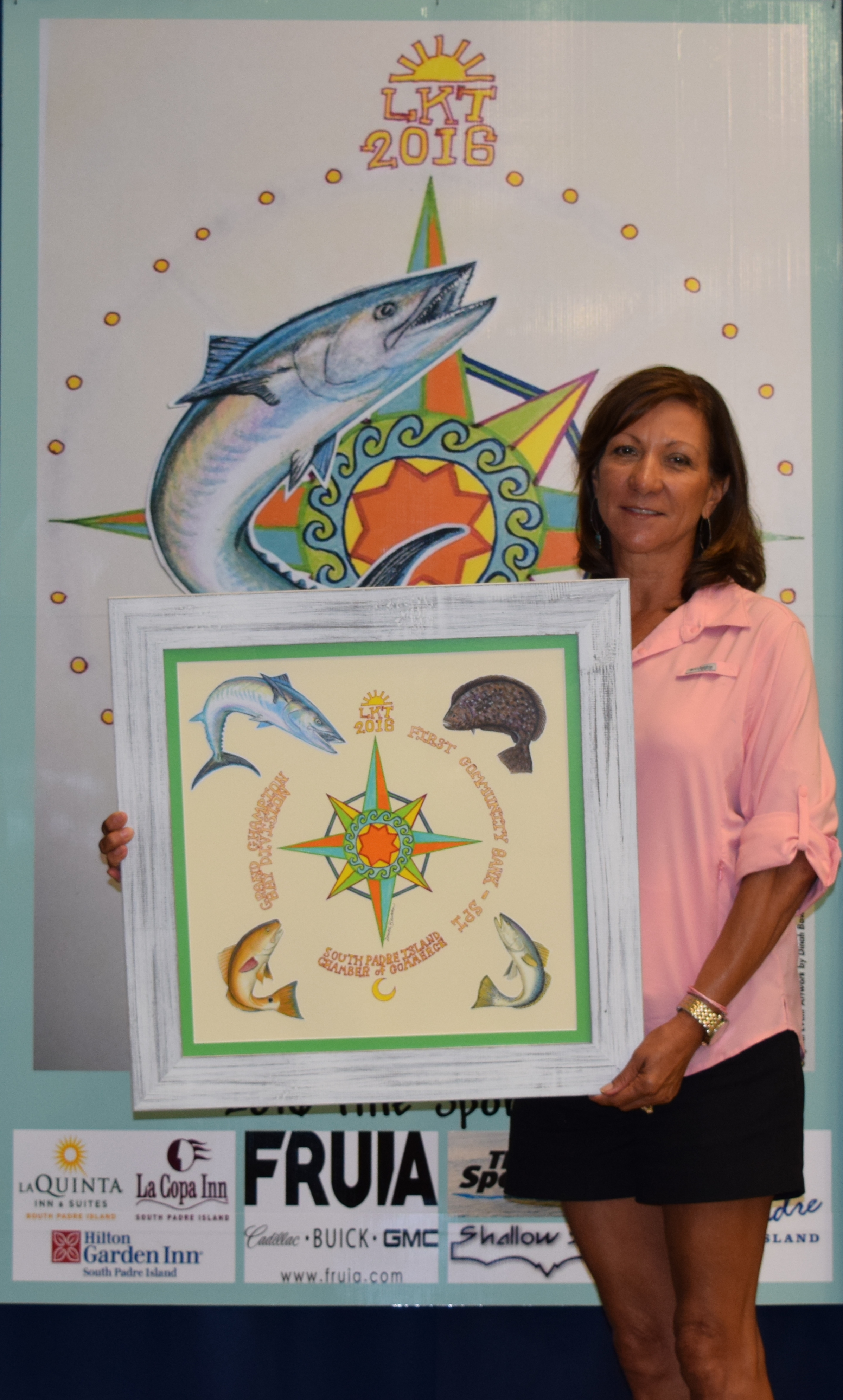 2016 Offshore Grand Champion
Shanna Collins from Kingsville, TX
---
2016 Team Shirt Contest Sponsors
Dee Dee's Boutique
South Padre Island Chamber of Commerce
---

2016 Bay Division Team Shirt Contest Winner -
Triple Catch

Charla Givens, Elma Arredondo, and Deb Holliday
---
2016 Offshore Division Team Shirt Contest Winner - Laguna Bob Offshore Too
Sandra Veale, Elizabeth Benton, Amanda Vela, and Penny Gautreau